Get into the groove with our totally 80's workout videos!
Stay fit, drive safely, and have fun! Watch this series of simple, at-home exercises to help improve your coordination, flexibility, and strength so you can be at your best when you're out on the road.
The Road Ahead
At any age, driving gives you the keys to independence. As we get older, it may feel like driving comes with more limitations. By staying aware of how your reaction time and other physical abilities may be changing, you can use new tools to make sure you're staying safe on the road.  
In this challenging time during COVID-19, we encourage you to stay home and stay safe. Virginia GrandDriver is here to be a resource for you in the safety of your own home.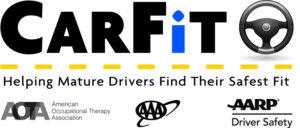 Does your car still fit you like it used to? A trained CarFit professional helps make your car as comfortable and safe as possible for you. In 15 minutes, we'll assess foot positioning on the pedals, adjusts window mirrors, steering wheel, and more.  
Stay Safe on the Road
Checking how you drive is part of safe driving. Minimize your risk on the road through physical conditioning, travel planning, and defensive driving. 
Pedestrian Safety
Just like driving, you want to stay alert when walking. Use defensive walking techniques to keep yourself and others safe when out and about.  
Are you a safe driver? Take our quiz! 
We give our cars routine checks to make sure they're running smoothly. It's important we do the same for ourselves. Check your driving skills and ability with our 10-question quiz. 
Virginia GrandDriver Helps Keep You Safe
Virginia GrandDriver is an educational resource designed to provide Virginians with information and resources about staying safe and mobile on the road as you age.